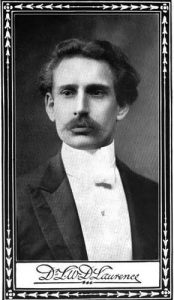 DE LAURENCE (OCCULTIST, MAGICIAN, GRANDMASTER)
Lauron William De Laurence (Dr.) was a grand-commander of the Magical Art, occultist, paranormal philosopher, spiritualist, author of metaphysics, mystic, masonic wizard and venerable grandmaster… De Laurence was born on 20 March 1868 at Ravenna (Ohio), the eldest child of William and Mary (née Walker) Lawrence. He was married twice; – the first time was in 1897 to Orrie Eckert in Ohio and the second time in about 1905 to Pauline McAdoo in Illinois.
De Laurence was world-famous as an American author, spiritualist and established publisher of occult books and worldwide marketer of spiritual products. His publishing company (De Laurence, Scott & Co.) and spiritual supply mail order house was located in Chicago, Illinois. De Laurence was a pioneer in the business of supplying magical and occult goods by mail order. He wrote several occult books which include The Master Key, Sacred Magic, and many more while his greatest work was – "The Great Book Of Magical Art, Hindu Magic & East Indian Occultism".
De Laurence was the Venerable Grandmaster of – "The Eastern Order Of Sacred Mysteries" which is the world oldest brotherhood of occultist and great adept. In early 1930 he was consecrated a bishop by the Spiritualist Arthur Edward Leighton (1890 – 1963), a bishop of the American Catholic Church (a church body founded by Joseph René Vilatte).
History recorded that De Laurence died on 11 September 1936 in Chicago, at the age of 68… His lifetime legendary spiritual works have brought him renowned recognition and his selfless iconic services to humanity have endeared his name to the whole world. In transition among the spirits, his works are everywhere on earth and his name stands high in the roster of independent and intrepid thinkers of all time.